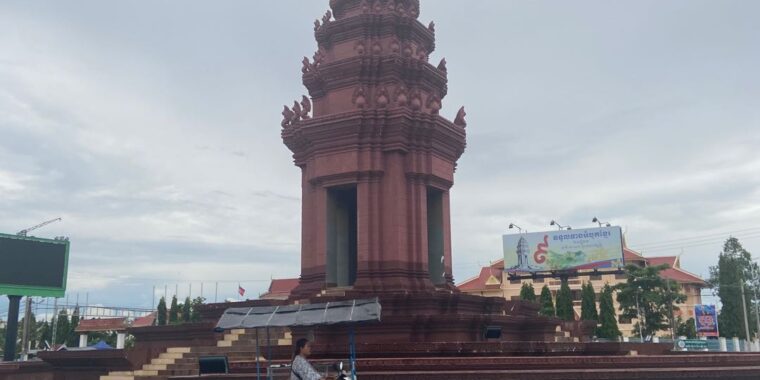 INTRODUCTION TO PAILIN
Pailin is a backwater border town between Cambodia and Thailand that is very much off of the Cambodia tourist trail. There are though enough things to make a trip to Pailin worth your while, and of course, it played an integral part of contemporary Cambodian/Khmer Rouge history.
History of Pailin
Pailin is famous for its gemstones, and when you have natural resources, you get a lot of popularity. Pre-revolution, the area, was populated by Shan Burmese people who came to take part in the gem trade.
Due to its wealth, it was one of the first places to be taken over by the revolutionary Khmer Rouge forces. The Communists subsequently used the wealth derived from Pailin to fund their revolution and 1975-79 regime.
Following the ousting of the Khmer Rouge in 1979, they retreated into to Pailin, again using the gemstones to fund their war against the central government. Pailin remained the essential capital of the rebel government until 1996, when Ieng Sery defected to the government.
The province was later carved into its own province, some would say as a way to leave the Khmer Rouge in power there. Since then, many former members have gone into hiding, some have been arrested, but essentially the area remains under KR control.
How Do You Get to Pailin
Like everything in Cambodia, there are locals buses that will take you here, but the best value, particularly if you are in a group, is to rent a vehicle. Siem Reap to Pailin is about a 4-hour drive, Battambang under 2 and  around 2, or so. Keep in mind that the state of the roads can change everything in Cambodia.
What Is There to Do in Pailin?
Not all that much, particularly if you are looking for things related to the Khmer Rouge rule in the area. There's certainly not enough for a standalone visit. That being said, if you are looking to escape the city and enjoy a bit of the countryside, Pailin is very relaxed.
Wat Phnom Yat – A famous stupa built by Shan Burmese immigrants in 1922. At the top of a 500-meter hill, which can be driven, or walked up. Free entry, but if you want to get fully involved, go with a Khmer friend pay the donations and get prayed for. It is a very big complex, with a huge statue of Buddha being a highlight. You can easily spend a few hours strolling around here. At the bottom, there are a few coffee shops, as well as people selling Durian.
Durian Farm – Carry on from the bottom of the Wat Phnom Yat and head up towards the mountains. They farm Durian amongst other friends, which is interesting enough, but it is the gem handling operation here that is most fascinating. Alas, they will not sell you gems.
Gem shopping – The Khmer Rouge mined the hell out of Pailin, so there are very little in local gems left, but that does not get the local entrepreneurs down. Gem salesmen will probably find you, and you will be invited to see the gem polishing process. Of course, in the end, you will also be given the opportunity to buy something.
Towards the Thai Border
Around 16km up the road from Pailin town is the Thai border. There are casinos lying idle as well as many still being built, all waiting for the influx that will come with open borders. Worth a visit if not just to look, Keep in mind Khmer nationals are not allowed in the casinos.
Where to Sleep in Pailin?
Memoria Palace and Resort – Located a few KM up the road. A nice, if not slightly overpriced place at almost $50 a room. Breakfast quite average, and the pool looked more like a pond. Good dinner menu and nice service though.
Pailin City Hotel – Great original name and looked like another homage to communist times. Very simple with rooms being from $20 a night.
Gem-Stone Guesthouse – One of the biggest buildings in the city, and also bright green. Rooms from $25 a night, but again nothing to write home about.
Where to Eat in Pailin?
A classic rural Cambodian town with lots of outdoor eateries serving Khmer Street Food. Overall, Pailin street food was satisfactory enough, with the broth-based noodles going down particularly well.
The Durians here are well thought of, as Durians go. Memorial Hotel it's probably the closest you will get to fine dining, and they welcome non-guests to the restaurant. It does appear to close rather early, though.
Conclusion on Pailin?
Pailin is a great place to escape city life, but it also doesn't have any major redeeming qualities either. To put it best, great as part of an extended trip, but would not be worth visiting as a standalone affair. If you were to choose between Along Veng and Pailin, you would pick the later.